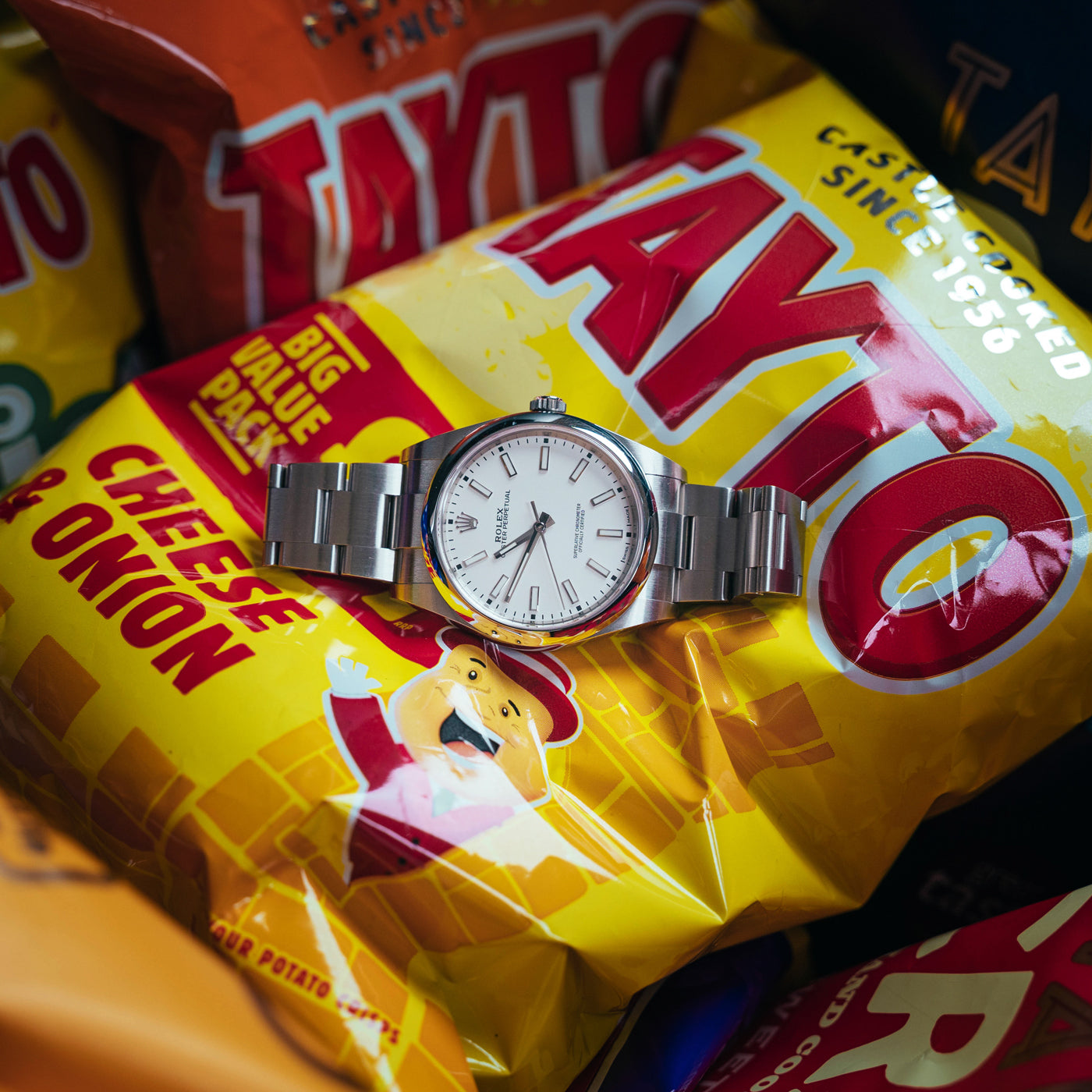 Win a Rolex
Two Northern Ireland brands with impeccable credentials have collaborated on a timely promotion. Tayto has joined forces with Belfast-based luxury watch company "Pride and Pinion" to offer Tayto's discerning fans an exclusive chance to win a Rolex watch.
The watch has been handpicked for Tayto by Nico van der Horst, founder of Pride & Pinion, Ireland's only dedicated luxury watch boutique, based in the Merchant Hotel. The watch up for grabs is a Rolex Oyster Perpetual, Stainless Steel with a white 39mm dial worth £5,000 and will look great on either a man or a woman's wrist.
The 'Time to Win' promotion will run in over 600 stores across Northern Ireland from this week until 18th April. Special in-store display units stocked up with sharing bags of Tayto's most popular crisps and snacks will provide details on how to take part.
Two lucky finalists will be shortlisted each week through six weekly draws. All twelve finalists and a guest will then be invited to take part in a Grand Final in the Merchant Hotel's Roof Top Bar on Thursday 23rd April where they will each have the chance to unlock the vault and walk away with the beautiful timepiece worth £5,000.
Explains Tayto Marketing Director, Elly Hunter, "We are delighted to bring together two brands that are known for their craft and great taste for this unique promotion. Here at Tayto, we make crisps and snacks that are perfect for sharing but we don't think the lucky winner of this Rolex Oyster is going to want to share their prize!"
Grab a Tayto share bag and visit winwithtayto.com to unlock your chance of being a finalist. And keep an eye on both Tayto and Pride & Pinion's social media for updates and news on how to find out if it is your time to win a Rolex.