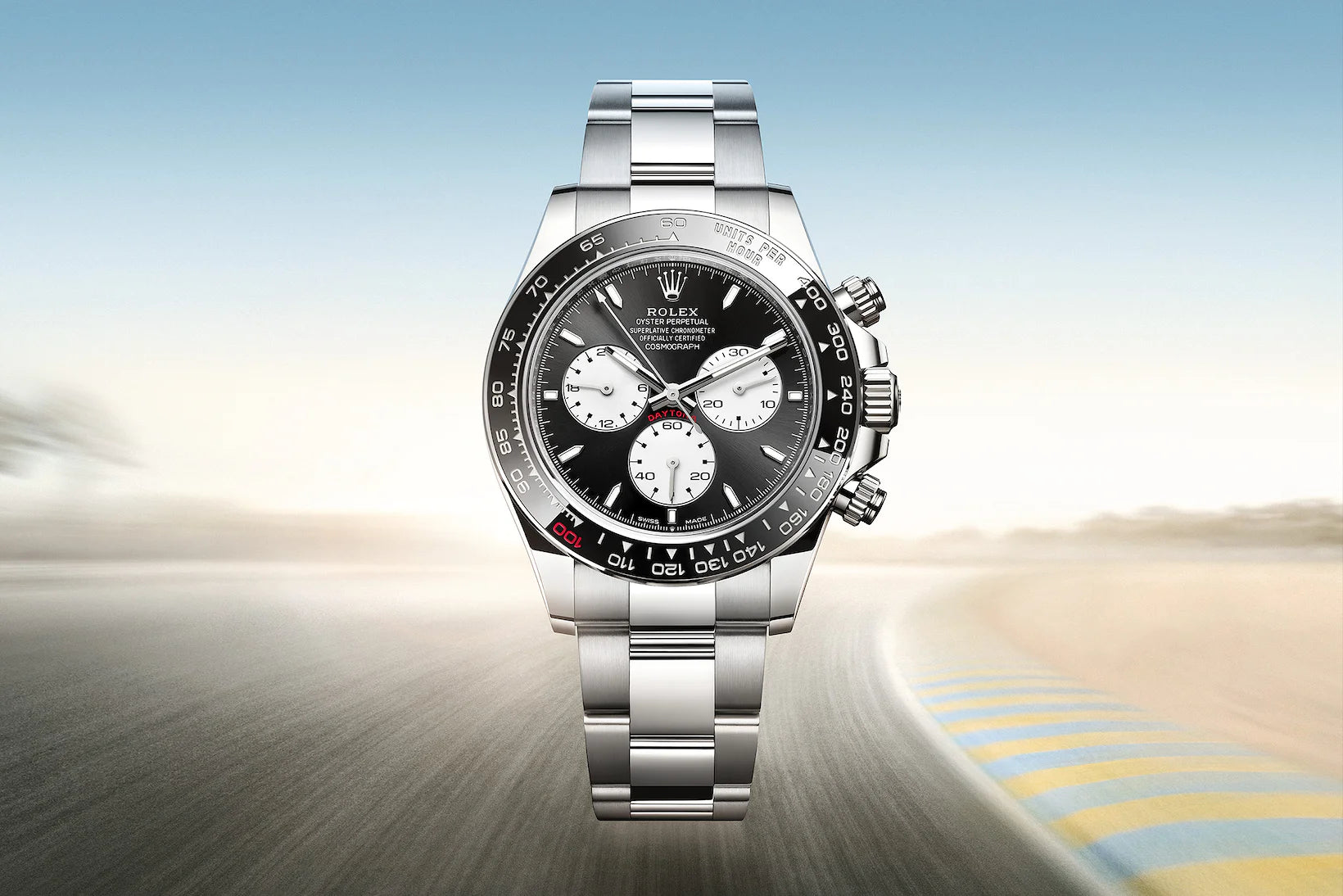 A Special Rolex Daytona For The 100th Running Of The 24 Hours Of Le Mans
Exciting news from Rolex as the renowned brand unveils a special edition of the modern Daytona watch, paying tribute to the 100th year of the iconic 24 Hours of Le Mans race, currently taking place in France. This new model, crafted in white gold and closely resembling the updated references revealed at Watches & Wonders earlier this year, commemorates the legendary endurance race with a reverse panda dial design. It features a distinctive black ceramic tachymeter scale with a striking red "100" indication, and a movement specifically tuned for the rigorous demands of the day-long race.
Building upon Ben's previous coverage of the 2023 Daytonas powered by the 4131 movement, let's delve into the notable details of this Le Mans Daytona, bearing the reference 126529LN. Just like the current generation, this timepiece measures 40mm in width and is presented on an Oyster bracelet. What sets it apart, apart from the captivating white gold construction and the vibrant red accent on the bezel, is the inclusion of a new movement. Rolex has introduced the caliber 4132, an evolution of the already-new 4131 movement.
While the initial release of the new Daytonas featured the 4131 movement, this Le Mans Daytona showcases the modified caliber 4132. What sets the 4132 apart is its ability to measure a full 24 hours, which is crucial for an endurance race like Le Mans, unlike the limited 12-hour chronograph of the 4131.
Another noteworthy aspect is the captivating Paul Newman-esque design of the reverse panda dial, featuring a black background with striking white sub-dials reminiscent of vintage Daytona 6263 models. Rolex even acknowledges the inspiration, stating in their marketing material for the watch, "The dial's graphic design is inspired by a Rolex dial from the past," evoking an exotic dial aesthetic.
With a display case back completing its elegant appearance, the new 126529LN model is priced at $51,400.